Mitchell Roofing Roofs Burlington's Most Historical Landmark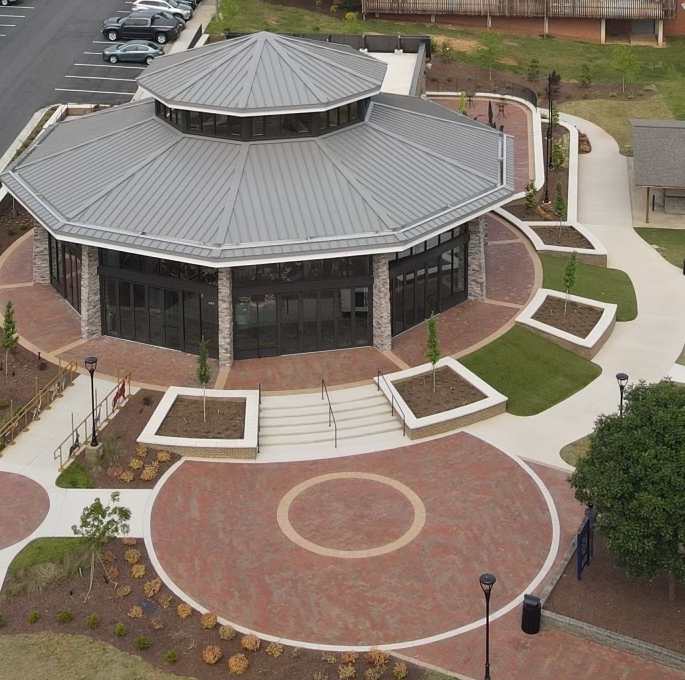 Nearly 116 years after Burlington's most recognizable historical landmark was built, Mitchell Roofing helped give the Burlington City Park carousel a new life.
"Growing up in Alamance County, I rode the carousel and later took my kids to ride it. That made this project very special to me," said Jeff Mitchell, President of Alamance County's most experienced roofing service provider. Mitchell was awarded the roofing project by Central Builders after a thorough vetting process. 
Built and operated in Ohio around 1906, the carousel was purchased by the city of Burlington in 1948 and moved to its Main Street location, where it has entertained thousands of children and adults ever since.
The carousel features 46 hand-carved animals, including pigs, horses, cats, rabbits, ostriches, a deer, a giraffe, a lion, a tiger, and two chariots.  A major restoration from 1981-1985 restored the animals and chariots to their former splendor. In 2019 a protective housing was begun and was completed in 2022, completing years of planning and work by artisans, machinists, and skilled tradesmen. 
The significance of the restoration can, perhaps, be only appreciated fully by those who have grown up in Burlington. Few children have reached adulthood in Alamance County without riding the carousel at least once. An online poll once asked what people remembered most about Burlington after moving out of the area. The number one answer? "The carousel."
Jeff Mitchell concluded, "It was an honor for Mitchell Roofing to be selected to build the roof to protect this important landmark. Obviously, the carousel remains a treasured part of our town and we are proud to have been a part of its restoration. Who knows, maybe the carousel will be there another hundred years."