STOP YOUR ROOF LEAK AND SAVE MONEY WITH 2 EASY PIPE BOOT!
2 Easy Pipe Boot is a patented solution for your leaking roof or the roofs of your customers. 2 Easy Pipe Boot simply installs over your existing leaking pipe boot to form a watertight seal.
No tools, caulking, or adhesives are required. Unlike similar products made of plastic, 2 Easy Pipe Boot is made of aluminum and can last the lifetime of your roof.
Available for 1.5", 2", and 3" vent pipes, 2 Easy Pipe Boot is a long-lasting, low-cost alternative to replacing rubber or silicone pipe boots and installation takes only minutes.

Here are a few of the advantages 2 Easy Pipe Boot  offers:
Made of durable aluminum—not plastic
Does not deteriorate from ultraviolet light
Seals to the existing pipe boot
No tools or caulking needed
Close tolerance for a tight seal
East installation, just slide over the existing pipe vent 
Reusable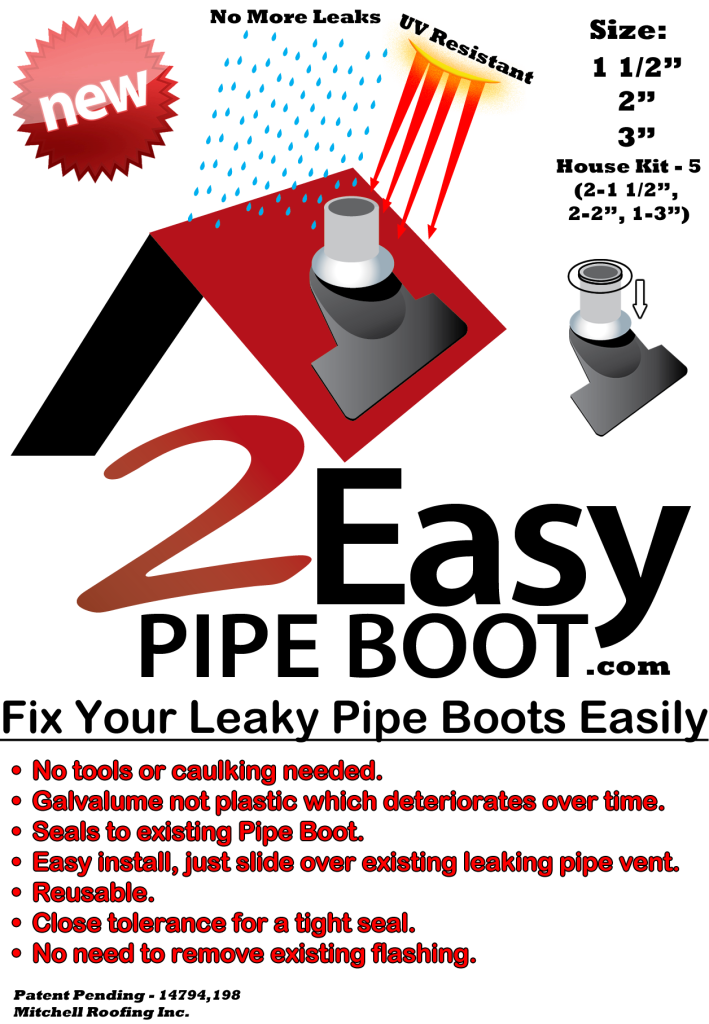 Purchase 2 Easy Pipe Boot
REPLACE DAMAGED PIPE BOOTS AND REPAIR ROOF LEAKS FOR ONLY $10!
Order your 2 Easy Pipe Boot today, call 336-227-9704 and we will ship it to your address. —trusted by more than 27 million merchants worldwide.  Specify which pipe boot you would like to purchase when you call. Pipe Boots are available in the following sizes:
Order 1.5" 2 Easy Pipe Boot 
Order 2" 2 Easy Pipe Boot 
Order 3" 2 Easy Pipe Boot
2 Easy Pipe Boot is available at discount rates and volume discounts for roofers and roofing product suppliers.
Offer our patented solution to leaking pile boots to your customers.
Call today to learn how you can add 2 Easy Pipe Boot to your inventory.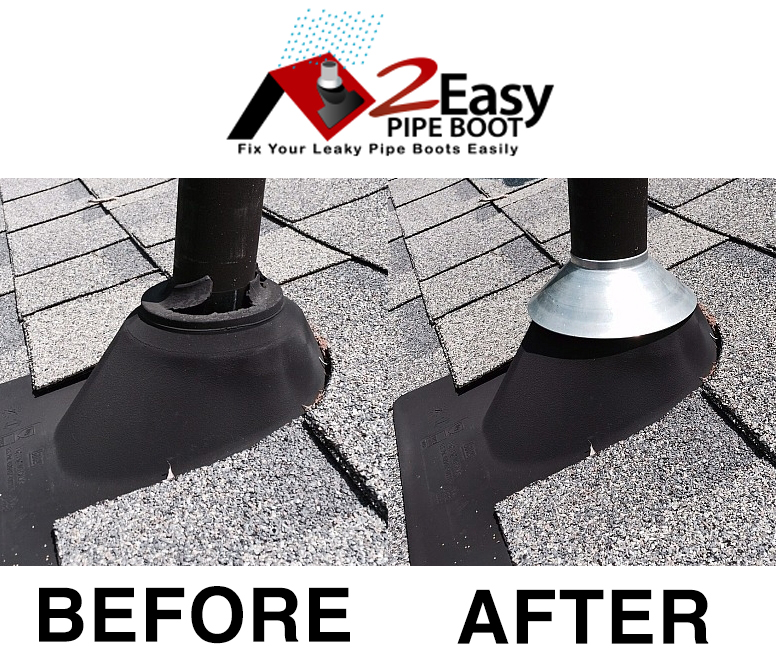 Kathy Taylor
June 22, 2022
The secretary was very nice
Gator green
March 25, 2021
They did a fantastic job over here on Bason rd
Kassidy Wilson
March 25, 2021
I had an excellent experience with Mitchell Roofing. Chris was friendly and professional, and was happy to explain everything and answer all my questions. And he didn't try to sell me on services I didn't need! I'm super happy with their work and the interactions I had with their entire staff. Highly recommend!
Joyce Lance
March 17, 2020
This is a true story, yet almost unbelievable in today's world. Our house is 24 years old, and I thought we needed new gutters because of the age of our home. We pride ourselves in maintaining it. Chris Turner told me on the phone I might not need new gutters if they're not leaking and he gave me a ballpark figure to replace them. He came to our house when he said he would. Afterwards he contacted me to tell me "our gutters are fine." We had a thorough conversation, and I told him personally that his honesty is refreshing. He could have made a sale to a willing consumer. He chose instead to be honest. We need more Chris Turner's and Mitchell Roofing in our world. I can't thank them enough. Of course, I highly recommend them.
Buck McMillan
February 28, 2020
They are the greatest! Very thorough!